Musical Director's notes and sound files for the Spring Term
Georges Bizet: Suite Jeux d'enfants
Georges Bizet
To listen to this please click on link below.
Jeux d'enfants (Children's Games) is a slight but genuine masterpiece, filled with inventive vivacity, witty and urbane in the best French tradition. Despite its slight stature it has achieved great popularity. It was not performed until 1880, five years after Bizet's death. Originally composed in 1871 as a set of twelve vignettes for two pianos, Bizet later orchestrated five of the numbers to make this suite. It showcases Bizet's natural gift for melody and deftness of touch in his orchestration.

The perky first movement (Marche) is marked by crescendos and diminuendos, with brass calls and drum beats descriptive of the gradual approach and retreat of a troop of soldiers. The second movement, which is entitled Berceuse (Lullaby) and subtitled La Poupée (the Doll), is a gently rocking lullaby. Next comes Impromptu (subtitled La Toupie, or The Top), which maintains a spinning figure in the background of a scampering main theme. Petit mari, petite femme (Little husband, little wife) is a slow movement just for strings. Essentially a duet between first violins and cellos, it offers a contrasting emotional depth inspired by children playing at tender domesticity. This delightful suite comes to a close with Galop (subtitled Le Bal, or The Ball), an exuberant music-hall finale.

---
Robert Schumann: Symphony No. 4 in D minor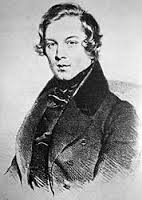 Robert Schumann
To listen to this please click on link below.
1. Ziemlich langsam - Lebhaft
2. Romanze: Ziemlich langsam
3. Scherzo: Lebhaft
4. Langsam - Lebhaft
1841 saw an outpouring of orchestral music from Schumann. Over four days in January he sketched his First Symphony, which he completed in February and which was performed in March. In April followed a not-quite symphony, the Overture, Scherzo and Finale, and in May a fantasy which would eventually form the first movement of his Piano Concerto. In September he completed a second symphony in D minor; this was performed in December but was less well received. A further symphony in 1845 became his "official" second, and the earlier work was temporarily forgotten.
A decade passed before Schumann gave further thought to the D minor piece, and he made extensive revisions to it in December 1851. He worked further on it intermittently over the next two years, and it was eventually published and performed in its final incarnation in 1853. This time it was received much better than at its original premiere. This resurrected symphony would prove to be his last, for Schumann's health had been deteriorating for some time. As 1853 progressed he suffered increasingly from aural hallucinations, and after a suicide attempt in February 1854 was confined to a sanatorium near Bonn. He briefly rallied, but his mental health declined rapidly thereafter, and he died there in July 1856.
The Fourth Symphony therefore offers an unusual example of youthful inspiration tempered by mature experience. Schumann made a number of changes from his original scheme, adding several details to emphasise the connections between the four movements (which run without a break) and revising the slow introduction and the passage connecting the third movement to the finale, one of the most inspired passages in all Schumann's symphonies. The major differences lie in the orchestration, which is much weightier than in the original with many lines doubled by wind and strings. It is sometimes unkindly suggested that Schumann did this to compensate for the shortcomings of his wind players in Düdsseldorf, but it seems quite likely that his intention was to recast some heartfelt and serious ideas in an appropriately grand manner. A reflection of this intention is in the dedication on the manuscript to the violinist Joseph Joachim: "When the first sounds of this symphony emerged, Joseph Joachim was a little boy; since then the symphony and even more the youth have grown, and so I dedicate it to him, even if only silently."
---
Johannes Brahms: Hungarian Dances Nos. 17-21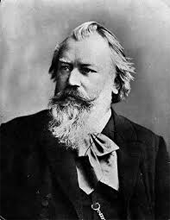 Johannes Brahms
To listen to this please click on link below.
No. 17.in F? minor: Andantino — Vivace
No. 18.in D major: Molto vivace
No. 19.in B minor: Allegretto
No. 20.in E minor: Poco allegretto — Vivace
No. 21.in E minor: Vivace — E major: Più presto

The Hungarian Dances by Johannes Brahms are a set of 21 lively dance tunes based mostly on Hungarian themes, published in four books between 1869 and 1880. They vary from about a minute to five minutes in length and are among Brahms's most popular works; they were certainly the most profitable for him. Brahms originally wrote them for piano duet and later arranged the first ten dances for solo piano. They bear many resemblances to, and may have influenced, the Slavonic Dances of Antonín Dvorák. Most of the dances are rapid, energetic pieces, imitating the mercurial spirit of Hungarian folk music, and some of the dances change tempo midway. The Hungarian Dances capitalized upon two musical trends of the 19th century. One such trend was for dance-style pieces written for piano duet. The other was for compositions inspired by Europe's diverse blend of minority cultures, particularly the Roma (Gypsy) culture, which was, if not specifically Hungarian, at least strongly identified with that nation.
Brahms wrote orchestral arrangements for Nos. 1, 3 and 10, and other composers have orchestrated the remaining dances. They include Andreas Hallén (Nos. 2, 4 and 7), Paul Juon (No. 4), Martin Schmeling (Nos. 5 to 7), Hans Gál (Nos. 8 and 9), Albert Parlow (Nos. 5, 6 and 11 to 16) and Robert Schollum (Nos. 4, 8 and 9). Antonin Dvorák orchestrated the last five numbers, comprising Book 4 of the collection (Nos. 17 to 21), and more recently Iván Fischer has orchestrated the complete set.

---
Repertoire for Hurst Weekend - 17 and 18th February 2018
Alexander Borodin: Overture to Prince Igor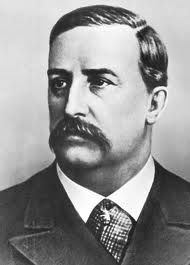 Alexander Borodin
To listen to this please click on link below.

Borodin worked intermittently at his opera Prince Igor for the last eight years of his life, but the score was left incomplete when he died suddenly in 1887. The Overture was among the last items to which Borodin gave his attention. He had apparently formulated the piece in considerable detail before his death, since he played a piano version of it for his friends on several occasions, but he never wrote out the orchestral score. Among those who heard it was the composer (and later director of the St. Petersburg Conservatory and teacher of Shostakovich) Alexander Glazunov, who put the work into its finished form. Several of the opera's most attractive and colourful themes are woven into a sturdy, symphonic sonata-allegro structure to create this fine, and characteristically Russian, overture. The work begins with an atmospheric, morning-mist introduction that leads without pause into the main part of the Overture, heralded by snapping blasts from the brasses using motives heard in the opera as fanfares for the Polovtsian warriors. Three delectable melodies (a quasi-Oriental strain first given by the clarinet, a majestic processional for the full orchestra, and a lyrical horn song floated above a triplet accompaniment) comprise the exposition. An ingenious development section, a full recapitulation of the earlier themes and a brief coda round out this excellent work, one of the minor masterpieces of 19th-century music.

---
Peter Tchaikovsky: Symphony No. 2 Op. 17 'Little Russian'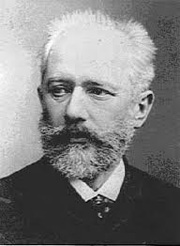 Peter Tchaikovsky
To listen to this please click on link below.
Tchaikovsky visited his beloved sister, Alexandra, in Kamenka in Ukraine in June 1872. Among the things he enjoyed most there was hearing the peasants sing, and it may have been this rustic music that inspired the Second Symphony. It was Tchaikovsky's use in this work of three folk tunes that he may have heard in Kamenka that caused it to be nicknamed "Little Russian" by the critic Nicholas Kashkin in 1896. The diminutive referred not to any characteristic of the work but rather to the Ukrainian region from which Tchaikovsky borrowed his themes, known in Tsarist days as "Little Russia".
Although a great success at its premiere, in 1879 he decided that the Symphony was flawed, and he undertook its extensive revision, completely rewriting the opening movement, radically revising the Scherzo, and making a large cut in the finale. It is the revised version that is usually performed today. The first movement is prefaced by a slow introduction based on a variant of the traditional Russian song Down by Mother Volga. The plaintive theme is first intoned by the solo horn before it is given a lengthy consideration by the rest of the orchestra. The body of the sonata-allegro form begins with a quickening of the tempo and the presentation of the main theme, a vigorous, stormy strain with a grand, balletic sweep. The secondary theme is announced almost immediately. Introduced by the clarinet, its lyricism, gentleness, and yearning make a strong contrast with the preceding theme. In the energetic development section these two melodies are intertwined with the folk tune from the introduction, a structural device Tchaikovsky had first employed in Romeo and Juliet to join the introduction more closely with the rest of the work. A massive climax ends the development and leads into the recapitulation of the stormy main theme and the yearning complementary melody, the latter here sung by the oboe. The closing pages bring the movement around full circle, with a quiet reminder of Down by Mother Volga from the horn and bassoon.
The second movement was taken whole from Undine, Tchaikovsky's unsuccessful opera of 1869. Having failed to secure its performance, the composer destroyed the score of the work except for this excerpt and a few other fragments. In the Symphony it forms the slow movement. The centre of this three part movement (A–B–A) is a treatment of Spin, My Spinner - one of the Fifty Russian Folksongs that Tchaikovsky arranged for publication in 1868-1869 - begun by the clarinet accompanied by icy, octave figurations in the flutes. The third movement is a quicksilver Scherzo, much indebted to the music of Borodin and Rimsky-Korsakov, whose central trio shifts rhythmic gears into a jaunty duple meter.
"Magnificent" was the rare complimentary word the finale brought from Cesar Cui, the least known member of The Five and one of Tchaikovsky's bitterest musical enemies. The movement, a dazzling display of orchestral colour and rhythmic exuberance, is a set of variations on the Ukrainian tune The Crane. A slow tutti introduction presents the basic shape of the melody before the variations are begun by the strings. The little tune is presented over and over, each time appearing in a different orchestration so that the variations are based as much on changing tone colour as on melodic manipulation. (Tchaikovsky admitted deriving this technique from Glinka's influential orchestral miniature Kamarinskaya, which he called "the acorn from which the oak of Russian music grew.") As a foil to the movement's propulsive rhythmic energy, Tchaikovsky added a lyrical melody, first heard in the violins and then repeated by the flutes. Joyous festivity, however, is at the heart of this music, and it is not kept long at bay by tender sentiment. The finale gathers momentum as it goes, becoming a swirling, fiery Cossack dance.

---