Musical Director's notes and sound files for the Autumn Term
C. H. H. Parry: Symphony No. 3 in C Major The English
C. H. H. Parry
To listen to this please click on link below.
1. Allegro energico 2. Andante sostenuto 3. Allegro molto scherzoso 4. Moderato
Sir Charles Hubert Hastings Parry was born on the 27th February 1848 in Bournemouth, the son of a wealthy amateur artist. He was educated at Eton and Exeter College, Oxford. Coming from a wealthy background and marrying a rich wife he never needed to earn his living. None the less, he joined the staff of the Royal College of Music in 1884 and was appointed its director in 1894, a post he held until his death. He had great personal charm and was a highly successful teacher of composition; among his pupils were Vaughan Williams, Gustav Holst, George Butterworth and Herbert Howells. Holst said of him "At last I met a man who did not terrify me. He gave us a vision rather than a lecture". In 1900 he succeeded John Stainer as professor of music at Oxford University, a post he held, concurrently with the directorship of the Royal College, until 1908 when he retired on the advice of his doctor. He died on the 7th October 1918 and was buried in St Paul's Cathedral.
His third symphony was completed in 1889, and was first performed in a Philharmonic society concert on the 23rd May, conducted by the composer. It was an immediate success, and, until Elgar's first symphony was premiered in 1908, it remained the most performed major work of any English composer. The subtitle The English refers to the melodic and rhythmic character of the themes, but Parry makes no direct reference to English folk music. Structurally, the work follows the models of Beethoven and Mendelssohn, though its scale and orchestration place it firmly in the late romantic era. The first movement is in sonata form, though without the repeat of the exposition, and it has an energetic dance-like character. The Andante is a ternary form movement in the relative minor key. In contrast to the first movement it is introspective and nostalgic in character. The third movement is a scherzo and trio, full of drive and energy, and the last movement is a set of fifteen variations on an eight bar theme. In the short coda Parry alludes to the thematic material of the first movement, bringing the work to a cyclic close.
---
Robert Schumann: Overture, Scherzo and Finale Op. 52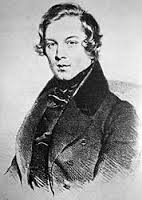 Robert Schumann
To listen to this please click on link below.
Overture, Scherzo and Finale Op. 52
The Overture, Scherzo and Finale was first performed at the Gewandhaus Concert in Leipzig on December 7th 1841, at which concert Schumann's D minor Symphony was also played. The year 1841 was an unusually busy one for Schumann, for his happy surroundings stimulated him to concentrate on the field of orchestral composition, and with his usual energy he sketched in rapid succession his First Symphony in B flat, the Fourth in D minor, and the Sinfonietta, as he first called his opus 52. The latter work, not having any slow movement, he revised in 1845, and then published it under the title: Overture, Scherzo and Finale.
The Overture, though slighter than Schumann's other symphonic movements, is graceful and spirited. It is full of the peculiar veins of delicate feeling and fancy which distinguish his works, and it would be difficult to find a composition of his which unites his most pleasing characteristics in so short a form. The Scherzo is stamped with that individuality which gained his symphonies such high reputations, and all of which contain Scherzos of extraordinary merit. The tripping dotted rhythm in 6-8 time prevails throughout, and is relieved in the Trio by a graceful phrase in 2-4 time. Both Scherzo and Trio are repeated, closing with a reminiscence of the first movement and a few bars from the Scherzo. The Finale assumes a more legato character in the first part, while the second half introduces a new theme, which, by its obstinate and uncompromising rhythm, is in strong contrast to the former.
---
Jacques

Offenbach: Overture to La Belle Helène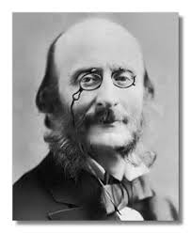 Jacques Offenbach
To listen to this please click on link below.
Jacques Offenbach was born in Cologne, Germany, on June 20th 1819, and died in Paris on October 5th 1880. He composed La Belle Helène in 1864 to a libretto by Henri Meilhac and Jacques Halévy. It premiered at the Variétés on December 17. The great master of the French operetta wrote music that fairly bubbled with wit and satire, not to mention a soupçon of French naughtiness. Some of his most successful operettas were parodies of stories from classical mythology, which formed the backbone of all French education, and La Belle Helène is one of the liveliest of them all. This "Fair Helen" is, of course, Helen of Troy, but the Paris who steals her away is no hero, simply a fatuous matinée idol, while her husband, King Menelaus, is the epitome of the bored middle class.
The overture provides a medley of some of the favourite tunes in the operetta, which include some of the best-known melodies from all of Offenbach. The great flowing waltz melody at its centre is as romantic as anything Offenbach (or most other composers) ever conceived. Offenbach avoids the harmonic and contrapuntal complexities of much of the music of the nineteenth century, and his compositions are designed to entertain rather than to provide intellectual complexities. If many of Offenbach's compositions are not masterpieces, they are, nevertheless, diverting works that in their day were immensely popular and that still retain much of their charm today.
---